The current economic downturn has caused many tech giants to lay off thousands of their employees in a very ruthless manner. This unexpected and insensitive move of these corporations is generating significant grief among impacted employees and raising concerns among all.
In the Native Indian Corporate Sector only, more than 67 companies have laid off over 24,000 people. Globally, Giants like Google, Goldman Sachs, Amazon and more have put off a chain of layoffs!
The mass layoffs have put into question the insensitivity of employers towards their employees, especially during such an uncertain time. It has also made it clear that employers are not taking into consideration the human element when deciding to downsize their workforce. This lack of empathy and understanding is an issue that needs to be addressed immediately in order to ensure adequate protection for affected individuals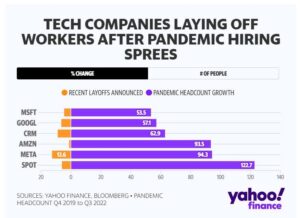 Image Source: Yahoo Finance
Google's parent company Alphabet INC laid off 12,000 employees! The most recent setback to corporate people. These cases show huge firms' insensitivity to its employees. Despite reporting record profits, these corporations have opted to lay off thousands of employees, seemingly with little consideration for the financial and emotional toll that this would have on these individuals and their families.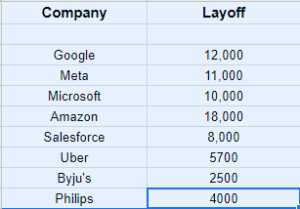 source: layoffs.fyi
Instead of cutting off people, they should search for methods to help them during these difficult times. This might include providing flexible work schedules, financial aid, and investing in retraining programmes.
Finally, instead of focusing simply on profits, huge firms begin to value the well-being of their employees and the greater community.