Fantasy play apps are not-a-new-thing now! But who knew The Third Unicorn, the brainchild of Ashneer Grover, would also debut in the same segment by launching CrickPe, a cricket-focused fantasy sports app that claims to bring in a crazy concept! If you got a winning team, you've got a shared win! That means you'd be indirectly sending gifts to your favorite cricketer(s)!!! Sounds too good to be true, right?
Let's delve deeper into this innovative concept. The app enables users to create virtual cricket teams and participate in contests to win cash prizes based on the real-life performance of players, which not only rewards you but also the players you chose!!! (upto 1lakh in a financial year; source: Yourstory)
But…but..but…! There are concerns about the regulatory aspect of this proposition. Collecting money on behalf of cricketers may not work considering set guidelines, and it may be perceived as a conflict of interest. However, Roland Landers, President of All India Gaming Federation, believes that Crickpe provides an interesting new opportunity for fantasy users to feel connected to their cricketing idols.
Company & the App
Of course, with heavy competition in the space from existing players like Dream11, Games24x7, and MPL, the question remains: can Crickpe stand out in a crowded market? Ashneer Grover certainly thinks so, insisting that the app won't spend lavishly on marketing campaigns or brand endorsements with cricketers. And with the goal of becoming profitable by the end of this year, it's clear that Crickpe means business. The three musketeers of the new 'Bat-Ball': Ashneer Grover, Madhuri Jain (jointly owneing: 74%: Entrackr) and Aseem Ghavri (owns: 8.85%: Entrackr) are set to shine!
CrickPe is touted as the most reliable app for cricket fanatics. The company's vision is to make online cricket supercool, thrilling, and a winning experience for cricket fans. So far, the business has attracted $3.5 million in early money from ZNL Growth Fund, Vevek Ventures Investments, Rishaayu LLP, and other venture and angel investors.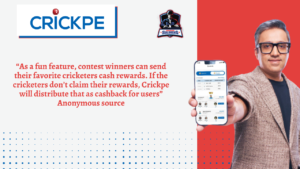 Features of CrickPe
Let's talk about the features! You can create virtual cricket teams and participate in paid contests to win cash prizes. Plus, there are free contests to help you improve your skills. And if that wasn't enough, you can create private groups and compete with your friends to earn rewards. It's like a virtual cricket party! With the IPL tournament just around the corner, there's never been a better time to get in on the action.
Now, you must be thinking – this app must cost a fortune, right? Wrong! The app only charges a 10% platform fee for any public or private contest. And the best part? They're not acting as an agent of the cricketers, so you can send those cash rewards guilt-free!
Conclusion
What is kept in the future for the app; Only time will tell. But one thing is for sure, it's an exciting time for cricket enthusiasts and fantasy sports lovers. The concept of rewarding cricketers is unique and may gain traction among fans. However, regulatory concerns and the competition in the market pose a challenge. For now, let's sit back and enjoy the cricketing extravaganza that is the IPL and see if CrickPe can live up to its promise of making online cricket supercool, thrilling, and a winning experience.
So, whether you're a die-hard cricket fan or just looking for a new way to enjoy the sport, give Crickpe a try. Who knows? You could score a hat trick for yourself, your favorite cricketer, and the game of cricket itself!
Read the Following article to know how amazing of a marketer and businessman is Ashneer: BharatPe spark up Startup Strategy